History of the Bowen Technique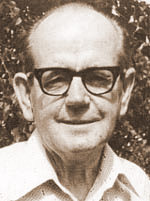 I think the variation between "Tom Bowen" and "Mr. Bowen" is odd... to me
T
The Bowen Technique first started in Australia and was developed by the late Mr. Tom Bowen. Thomas Ambrose Bowen was born on 18 April 1916 in Brunswick, Victoria, Australia. From the 1950s until his death on 27 October 1982, he developed his unique soft-tissue therapeutic technique that is now commonly known as Bowen therapy or Bowen Technique.
Tom Bowen was not formally trained in any medical or alternative therapy discipline, although he considered himself an osteopath. He stated simply that his work was a gift from God. It was through his love of sports that he became interested in massage and other manual techniques. After developing an understanding of soft-tissue technique">, he explained that stimulating the body in a specific way, activates the intelligence of the body, and the process of unraveling neuromuscular problems begins. He used this knowledge to develop his technique and in-time, set up a clinic in Geelong, Australia.
Mr. Bowen was documented at seeing an average of 14 people an hour and over 13,000 people a year. Tom Bowen was gifted in that he could help his clients with very little interaction. He wasn't like most therapists who utilize many tools to assess their clients, instead he would observe his client's body language and how they walked/moved. He would use his extremely sensitive hands to detect changes in tissue as he worked on his clients. He was known for doing a minimal number of moves, as he recognized that the body was very receptive and didn't need a lot of manipulation to effect change and unravel neuromuscular compensations. Depending on the individual, this unraveling process could take anywhere from 5 minutes to 7 days. He would always wait a week in between visits to give the body time. According to his own accounts, he concluded he had an 88% success rate in treating his clients.
Mr. Bowen was a kind man in that he was always willing to help someone. He opened his clinic up a couple times a month to offer free care to those who were disabled and was known in his community for helping athletes at sporting events and many other people in need.
What Tom Bowen attributes to his divine inspiration is now becoming one of the most powerful healing modalities in the world. Not long after Tom Bowen passed away in 1982, the Bowen Academy of Australia was founded by Ossie and Elaine Rentsch in 1987. They were fortunate to have studied with Tom Bowen and were responsible for creating a format in which to teach it. Bowen therapy has spread rapidly since then and is now being taught and practiced in over 40 countries.
The original name for the technique was known as Bowen, for Tom Bowen. Later, after Mr. Bowen passed away, the Bowen Academy of Australia (BTAA) established the name Bowtech which brought together the 2 words, (Bow)en and (Tech)nique.